2012 = silence + space
what do ideas sound like before they become words?
what could a pre-language state sound like? what could a post-language state sound like?
what are the sound differences between internal dialogues and spoken words?
how can one explore the spaces between words and music…
and the pure-sound background of both?
why is it so joyful to experience non-verbal states…
when all internal and external dialogues cease?
these questions have been the focus of a research period in Paris from January to March 2012
emerging from this research is a new composition created for the following performance


choreography by Deborah Hay
Louise Desbrusses – adaptation and performance
Hilary Jeffery – composition
music composed at GRM Studios, Paris
for the realisation of this work Hilary Jeffery
was a laureate of the City of Paris and Institute Francais
art-in-residence programme at the Recollets
from January to March 2012
by bringing attention to all sounds in the environment as potential music
the work of John Cage also brings to our attention internal sounds
these include physical, mental and imaginative sounds
this focus has influenced me in my work of creating a music of "inner (= outer) space"
this work is an exploration of musical space which implies and sometimes leads to a realm of supposedly impossible silence
written for the exhibtion:
Membra Disjecta for John Cage. Wanting to Say Something About John
exhibition at freiraum quartier21 – MuseumsQuartierWien
curated by Jozef Cseres and Georg Weckwerth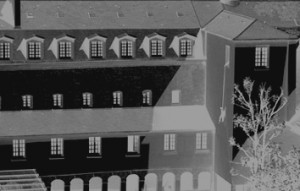 january -> april 2012
:
silent recollection in paris