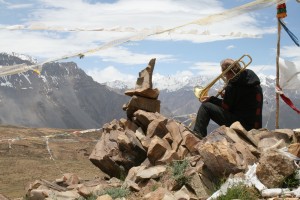 Hilary was born in 1971 in Surbiton, England and works as a musician. Following studies at Dartington College of Arts, University of York and with James Fulkerson at the European Dance Development Centre in Arnhem, Hilary embarked on a colourful musical life playing throughout the world in many settings including theatres, jazz clubs, cathedrals, night clubs, festivals, dance studios, bars, cinemas, galleries, streets, forests and mountains. As well as composing Hilary plays trumpet, trombone, tuba, piano, electronics, and sometimes sings. He is currently based in Berlin where he plays in many groups including Zinc & Copper, Minor Tom, Tonaliens, Inconsolable Ghost, Mullet and Mouse On Mars Dimensional People Ensemble. He has composed music for the David Kweksilber Big Band (Amsterdam), Slagwerk Den Haag, the Acousmonium (GRM Paris), Zagreb Experimental Ensemble and for his own ensembles. The sense of silent space he experienced during a journey to the Sahara Desert in 1990 is a central and sustaining influence on his work.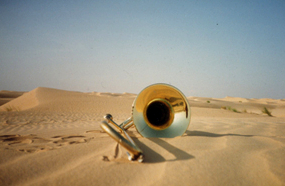 – long biography –
Hilary was born in 1971 in Surbiton, England, works as a musician and is currently based in Berlin. His musical career started with a journey to the Sahara Desert in 1990 and the sense of silent space which he experienced there is a sustaining influence on his work. He took a degree in music at Dartington College of Arts and the University of York between 1990 and 1993. Early contact with UK jazz musicians such as Paul Dunmall and Keith Tippett have had a lasting influence on Hilary's approach to music. After completing his studies he became a freelance musician. His early engagements include a tour of UK, Scandinavia, Europe and North America with an Anthroposophic theatre company called Portal Productions for a new version of Rudolf Steiner's fourth mystery play "The Soul's Awakening". After completing this tour Hilary settled in London, worked as a session musician and taught music to theatre students at Queen Mary and Westfield College and Central School of Speech and Drama. During this time he also worked on many compositions including solo pieces for trombone and for the Slovakian cello player Jozef Lupták.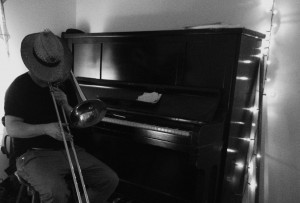 In 1998 he moved to Arnhem, Netherlands to study music composition for dance and trombone with the American composer-trombonist James Fulkerson. After completing this year of study Hilary continued his freelance work in UK and Netherlands, moving between Arnhem, London, York, Oxford, The Hague and Birmingham. During this time he also took classes in electronic music at the Institute of Sonology in The Hague, recorded several albums, toured throughout Europe and played twice in Tokyo for a dance production by the Japanese choreographer Saburo Teshigawara. In 2002 he settled in Amsterdam and became part of the music scene there, performing in many clubs and theatres as well as curating his own club nights and organising funded projects including a research project at Steim. A lot of Hilary's music at this time focused on improvisation and jazz, included work with the saxophonist Tobias Delius and the formation of several ad-hoc ensembles. A European tour with the Jimi Tenor Big Band in 2003 kicked off an active touring life, with recording sessions, theatre / dance shows and composition commissions in between life on the road!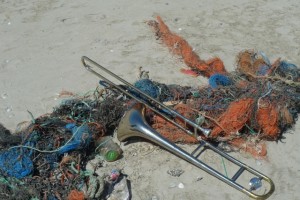 In 2007 he was invited to join the ensemble zeitkratzer, based in Berlin. This invitation, combined with many other contacts with the thriving music scene there resulted in a move to Berlin in 2011. In 2013 Hilary started to study Dhrupad with Amelia Cuni, aiming to apply techniques of this Indian classical music tradition to the trombone, they also recorded and performed together as Tonaliens with Werner Durand and Robin Hayward. Since moving to Berlin Hilary has also played at most of the major stages and festivals in the city including Berghain, Club Transmediale, Haus der Kulturen der Welt, HAU, Jazzfest, März Musik, Hamburger Bahnhof, Silent Green and Volksbühne. Berlin based ensembles with whom he currently works include Zinc & Copper, Minor Tom, Tonaliens, Mullet and Mouse On Mars Dimensional People Ensemble.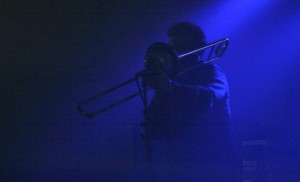 Hilary travels widely, performing in major international stages and festivals worldwide. He has received composition commissions for Slagwerk Den Haag, GRM Acousmonium, David Kweksilber Big Band, Apa Ini and his ensemble Minor Tom. He has been invited for artistic residences such as Recollets in Paris (2012), won the Henriette Bosmans Prize for his composition "Vishnu Stockings" (Netherlands, 2009) and appears in many different recordings on various labels including Aquarellist, Bocian, Col Legno, Comatonse, Edition Telemark, Fat Cat, Faux Amis, Fourth Dimension Records, FMR, Dilemma, Important Records, Mikroton, New World Records, Philophon, Shhpuma, Silent Records, Soul Jazz, Sloow Tapes, Sub Rosa, Subtext, Zeitkratzer Records and Karl Records.