broadcast_011
"The Weather in Fred Sandback" on Radio Vilnius
hosted by Eleni Poulou featuring a live reading by Martin Ebner and music by Organza Ray, Zigaretten Rauchen, The Fall, Sand, Paid To Practice, Eric D Clark and Minor Tom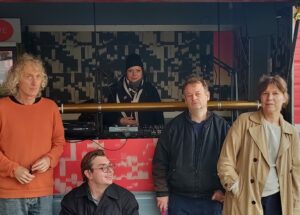 ---
broadcast_010
RTM W/ Right As Rain / 09.09.22
Several minutes of dust conditioned to rise. Revealing the story through the drops of water. Spoken word sound collage live music. Theresa Patzschke and Eleni Poulou make tapes, zines, performances.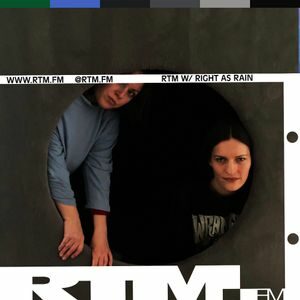 Organza Ray are Hilary Jeffery and Eleni Poulou. They are connecting pathways of knowledge through sound, discovering shimmering entrances and underwater arches. 400 years of long notes, open bags and dancing butterfly blues.
NOHE NOSHE are Petr Step Kišur (founder of the Honey Suckle Company art collective) and Eleni Poulou (The Fall). They make healing music with synthesizers and an Indian harmoniu
---
broadcast_009
Elope #36 – Organza Ray live proper Elope power with Elena Poulou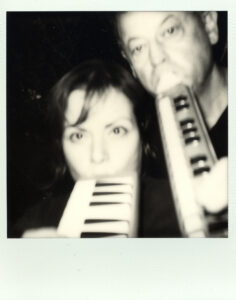 ---
broadcast_008
Inconsolable Ghost – Entrance to the Exit
Curley – ghost
Miodrag Gladović – electric guitar, electronics, computer
Hilary Jeffery – voice, trombone, text
Gideon Kiers – computer, electronics
Gianpaolo Peres – voice
Zsolt Sőrés – voice
commissioned by the Musica Sanae project by In Situ Foundation (Sanatorium of Sound Festival in Sokołowsko) in collaboration with Michał Libera, Phonurgia (La Digestion Festival in Naples) and N.K. Projekt (Berlin).
Recorded live at Castel Nuovo "Maschio Angioino", Naples on 3 May 2019
Edited and mixed by Gideon Kiers, Miodrag Gladović and Hilary Jeffery
Filmed by URSSS.com
---
broadcast_007
Kastra – organza ray
Eleni Poulou + Hilary Jeffery
Movement Radio
movement.radio/show/organza-ray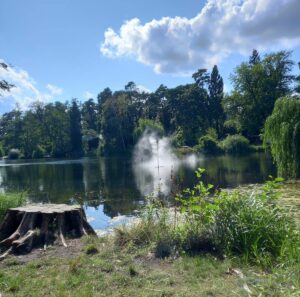 ---
broadcast_006
Inconsolable Ghost – Hakim Bey Channelling
Hakim Bey – ghost
Anthea Caddy – cello
Hilary Jeffery – trombone
Eleni Poulou – keyboard, electronics
Zsolt Sőrés Ahad – viola, electronics
---
broadcast_005
Queens Funeral Music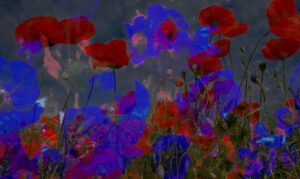 Henry Purcell's classic funeral march from 1695
arranged, played and recorded by #hiljef @ #berlintune studio in early May 2022
---
broadcast_004
Mood Indigo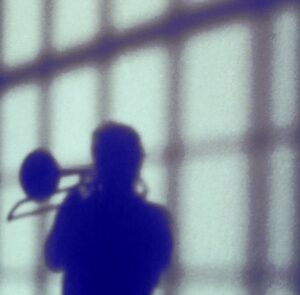 Duke Ellington's classic ballad from 1930
arranged, played and recorded by #hiljef @ #berlintune studio in late April 2022
---
broadcast_003
Tuning Monastery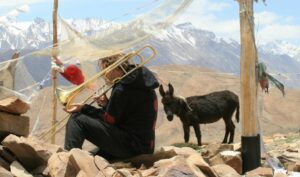 hiljef.substack.com/p/tuning-monastery
---
broadcast_002
"Нежность" (Tenderness)
Minor Tom
Ekaterina Efremova – vocals, guitar, electronics
Andrey Gaiduk aka 23:59 – computer
Hilary Jeffery – trombone, computer
Svetlana Matveeva – vocals, keyboard, electronics
Timur Mizinov – guitar, electronics
Anna Rotar – trombone
Maria Rusinovskaya – production, logistics, co-curator and facilitator
Victor Skorbenko – vocals, guitar, electronics
Kristin Alsos Strand – cello
composed by Aleksandra Pakhmutova, lyrics by Nikolay Dobronravov and Sergey Grebennikov (1966)
recorded live at Murmansk Spaceport on 28 November 2015
edited and mixed by Hilary Jeffery at Berlintune Studio 2022
---
broadcast_001
moving places
interplanetary hyperspace
ellen arkbro + hilary jeffery
NTS Radio
nts.live/shows/ellen-arkbro/episodes/ellen-arkbro-8th-february-2022